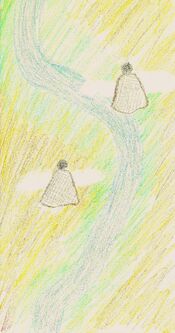 Welcome to Whisperpedia!
This wiki is dedicated to chronicling the world inhabited by the Whisperers of the Gods.
Here you will find information about people, cultures, languages, religions and geography.
Who are the Whisperers of the Gods?
The Whisperers of the Gods are a nomadic desert tribe who believe the gods speak to them in visions. They are the namesake for a series of novels written by Guenevere Lee, beginning with Orope - The White Snake (published by Morgan James Fiction in 2018). The novels follow three Whisperers, who are sent out after a terrible vision of the end of the world. The Whisperers are tasked with locating the source of corruption and evil in each land, and trying to convince the people of Mahat, Matawe and the Grey Mist to follow the old ways before the gods destroy the world in a great flood for the second time.
Explore
About the World
About the Novels
About the Wiki
Follow Guenevere Lee on Facebook
Latest activity
Photos and videos are a great way to add visuals to your wiki. Find videos about your topic by exploring Fandom's Video Library.
Community content is available under
CC-BY-SA
unless otherwise noted.